After a year of planning, prepping, poetry/playwriting and performing, The 524 Project is coming to an end! It has been a wonderful ride, and we are so grateful to have been able to work with two amazing groups of young artists in Detroit and DC.

To honor our students and the great cities…
I first heard about Meridian Hill Pictures' staff filmmaker and educator Ellie Walton from afar. As an American Studies student at Georgetown, some of my more prominent interests included local city history and labor rights. Two of Ellie's films, Chocolate City and Igual Que Túdeal with both of those themes directly. So, I decided to approach Ellie to see if she would be the advisor to my senior thesis film, Creating Dangerously. Expecting a "nice project, but I'm way over extended with my own work," type of answer from a filmmaker as lauded as Ellie Walton, I was very surprised when after I finished my pitch and she responded with a simple, "sure." I had not expected to be successful! Even in this very first meeting, Ellie demonstrated so many of the qualities that I continue to appreciate about my time spent working with her.
The first thing I realized about working with Ellie is that she is accessible. Although her reputation precedes her (and that can be intimidating), after our first meeting I found it so very easy to speak with Ellie. This proved to be one of the things I most appreciated in our advisor/advisee relationship. In addition to being accessible, Ellie is flexible. We met in person about once every two weeks, often meeting in coffee shops, restaurants, at my school, in the Meridian Hill Pictures studio and occasionally intercepting each other on street corners. We would also often communicate through email, phone and text. Throughout the school year I heard stories from my classmates about their less-than-present advisors and how they were navigating the daunting thesis terrain more or less without guidance. Each time I heard such a story I felt lucky knowing that not only was my advisor responsive and receptive, she was actually actively motivating me in my work.
The next thing I noticed quite immediately about working with Ellie is that she "gets it." Despite my finest efforts to string my thoughts and storyboards together, I always felt frazzled describing my ideas and what I wanted my final project to be. Often times my ideas did not resonate with my friends or classmates. Yet when speaking with Ellie, without delay or confusion, she always seemed to get it! The fact that I could communicate my ideas with another creative thinker proved invaluable in the construction of the narrative of my final film. Without making me feel as if my ideas where no longer my own, Ellie wisely guided my narrative to help me understand how to communicate effectively in the film medium. She taught me how to put the rubber to the road and how to form a project that others could "get" as well.
Finally, Ellie is supportive. As a young filmmaker, it is easy to feel that there is so much you don't know, or to feel frustrated that you can't make a scene look the way you want it to, or confused about the various ethical issues that come along with documentary filmmaking. Ellie guided me on all of these concerns. Not only did she guide me, she made me feel capable and motivated me to challenge myself. Maya Angelou once wrote, "I've learned that people will forget what you said, people will forget what you did, but people will never forget how you made them feel." I certainly have not forgotten Ellie's sage words nor her inspiring projects. What I mean to say is that rather than leaving our meetings feeling inexperienced or "small" (as one so often does as a student), working with Ellie always left me feeling "big" and capable as a young artist. It is thanks to that feeling that I truly have grown after working with Ellie.

by Emily Moses
Reflecting on my time interning at Meridian Hill Pictures always brings a knowing smile to my face. My name is Emily Moses and I am a senior at Frostburg State University majoring in Graphic Design while minoring in Small Business/Entrepreneurship.  Last summer I worked as a Graphic Design intern at Meridian Hill Pictures, creating promotional graphics, original illustrations, and package designs to advertise MHP's PictureHouse events, film screenings at the Hillyer Art Space, and outdoor film screenings in parks across DC.
As an emerging artist and graphic designer, this internship was exactly the opportunity I needed to get experience, test out my existing creative instincts, and see how I could apply them all to real world scenarios. What really sold me about MHP and made me want to work for the studio is how meaningful MHP's work is and how much of a positive effect it has on the people involved in the filmmaking process — from those behind the camera to those participating in the film itself. I was smitten with the work I would be doing right from my first assignment, when they sent me home with the documentary, The Vigil, telling the story of a Washington D.C. based Pakistani dancer on a mission to carry on the practice and performance of traditional Hindu dance, something that had been outlawed in Pakistan for quite awhile. I watched the film at least five times in a row, moved by it more every time. I couldn't wait to get back in the studio and start designing the promotional flyer.
I identify very deeply with the mission at MHP and how community oriented the business is. Working at the studio put me right in the middle of a dynamic team, and very creative environment. I was overflowing with creative ideas and energy all summer long. I have found that for me as an artist, the type of environment where I work has a significant effect on the quality of work I produce. In the environment at the studio, while I had the necessary support, direction, and guidance that I needed, I also felt like I had the creative freedom to be whatever I wanted to be and design whatever I wanted to see come to life. That feeling and that freedom is an extremely rare find for an internship or a job. I have suffered through many internships where all that I was allowed to do was organize the closet or type the labels for the bins the graphics were being stored in.
I love that MHP is located in Columbia Heights, right in the middle of an active neighborhood, and in close proximity to Adams Morgan. While the commute from Anne Arundel County could be a bit long (and once landed me on CNN for taking a video of passengers walking along the metro tracks during an intense heat wave!) Columbia Heights is a perfect fit for the studio and only made the experience more fun. I love the team-oriented environment in the studio. I loved the other interns and especially logging footage — getting to see firsthand the magic of all that Ellie, Lance and Brandon do. I loved the studio as a whole.
After working at MHP, I can see the growth that I've made as a designer, and an artist, having learned from the positive example set in the studio. After getting to test out some of my better techniques and tactics at the studio, I have continued to develop my style as a designer/illustrator/photographer and was able to bring all of my experience to my current job at school and boost my portfolio. Currently I work on a Social Marketing Team, marketing events and causes on our campus to students. I just completed my first gallery opening and my Senior Thesis Exhibition. I am also testing the waters combining my love of art and community service in coordinating, promoting and hosting a local art showing and sale within the Frostburg community. All proceeds and money made on the artwork sold will be donated to the Allegheny County Animal Shelter. I plan on moving to DC upon my graduation in May.
No matter where life takes me, I will always look back on my time at Meridian Hill Pictures, grateful for my experiences and connections that I made. 
Check out Emily's online portfolio here: http://www.behance.net/goemilymo
My name is Sarah and I am a senior at Georgetown University, graduating with a degree in American Studies. For the past four months I have been working on my thesis about cross-cultural education and global citizenship, with Meridian Hill Pictures educator and filmmaker, Ellie Walton. As part of my graduating requirements, I am creating my yearlong film thesis, and have been working closely with Ellie as my advisor.
My guiding research question has been: What is the impact of a cross-cultural arts education on the development of global citizenship in the American Millennial generation, as seen in three student experiences with the Global Potential curriculum?
At the beginning of my project, my task seemed as long and confusing as that sentence! Let me break it down a little bit.
Since I was sixteen years old, I've had the privilege to travel to many far-flung places, whether through a formal education program or solo traveling. I consider travel, and cross-cultural learning, to be an integral part of my own self. I greatly attribute my worldview to many experiences I've had while out of my country and out of my comfort zone. I am always reinvigorated by the diversity of our American people whenever I return from travel; I love the vast array of culture and perspectives that our country can claim. And I think that as Americans, we are in a unique position to both embrace our inner diversity and look outwards towards our larger global community with a broadened worldview and strengthened empathy for other cultures.
These beliefs led me to work for Global Potential (GP), a New York-based education and social work NGO that engages urban high school youth in an 18-month leadership development and global citizenship curriculum. Seven weeks of the program are spent living and doing community service in the Dominican Republic, Haiti or Nicaragua. I strongly believe in the transformative power of travel that GP promotes and I have been very happy to facilitate and support a cross-cultural learning experience for others.
One of GP's most powerful components, in my opinion, is their media advocacy program. GP equips its students with media tools (cameras, flipcams, tripods, microphones) and provides educational workshops on participatory media before, during and after their travel abroad. The GP students, along with youth from the local host communities, make short documentary films, photojournalism projects and art work representing their experiences. GP specifically encourages the students to explore social injustices that they and the community members are facing.
For my thesis, I set out to make a film about how cross-cultural learning can have a positive impact on the worldview of American youth. I had seen this as a truth in many of my student's experiences as well as in my own travel experiences. I have asked two GP alumni/staff and one GP student to participate in my film and allow me to interview them. As my project has progressed, I have realized that what all three of my participants have in common is their creation of art while abroad. One of my participants made a short documentary, one has since become a painter after creating a mural, and one is creating a photojournalism project and helping to organize a media festival.
Therefore, I have turned my attention towards the impact of the production of art, while in the context of cross-cultural education, on the development of a broadened worldview (or global citizenship) in American youth. I have been interviewing my participants about their experiences, accompanying them on various daily activities and engaging with them in reflective exercises that re-engage them with their experience during their summer abroad. These activities have included looking at old photographs, reviewing their artwork and re-reading a journal they wrote.
My goal is to create a final film that tells a larger story of contemporary American youth, through the intimate story of three extraordinary young adults. I am weaving video and photo archives from up to five years ago to help re-tell the story of their travel. So far, Ellie and I have been meeting once every two weeks to talk about the progress of my film, the participatory filmmaking technique that I strive to embody and other aspects of storytelling. I am excited to move forward with this project with the support of Ellie and MHP!
- Sarah Vázquez, Georgetown University American Studies Program
On September 12, 2012, MHP's PictureHouse public screening series at the International Arts & Artists' Hillyer Art Space featured a dual-screening of R. Luke DuBois: Running out of Time by H. Paul Moon, and Grrrl Love and Revolution: Riot Grrrl NYC by Abby Moser. 
The following is a short reflection on the evening from director Abby Moser:
"I am a big fan of Meridian Hill Pictures and was honored to have my film screened at the PictureHouse screening on Sept. 12. There is always a lot of thought and care that goes into MHP events and it transfers to the way the films they screen are viewed and discussed. Despite the radical aesthetic differences between my film and Paul Moon's, our films shared a concern with how we process and respond to media and I really enjoyed the discussion after our screening about this issue and others. One of the best things about the screening was the great audience!! The questions asked about my film really made me think and I've written them down, in fact, in order to provide better answers in the future. I was really touched by the great turn-out by friends, family and colleagues. And thank you, Emily Moses, for the great poster!"
In modern documentary, it's easy enough to find films that make bold statements, proclamations, or arguments. I guess you could say, that in a way, I'm talking about the films that express ideas effectively ending in a
period
. Climate change is bad. Community gardens are good. Ride a bike. Ditch your car. Eat vegetables. Skip the meat…you get the idea. Then there are the rare gems, those precious films that master the mysterious art of structuring a story around a
question mark
. The payoff from these unforgettable tales that hover around a brilliant central question isn't necessarily even finding the explicit answer to that question. Rather, it's often about the journey itself, usually driven by human curiosity and inquiry, to discover some greater truth about our existence. I am thrilled to write that the wonderful new documentary 
Searching for Sugarman
embodies these qualities as well as anything I've seen on screen recently.
Watching
Malik Bendjelloul's
film this past weekend at the
West End Cinema
in DC, I was reminded that it had been far-too-long since I had sat in a theater and found myself so pleasantly enraptured in the precious delight of watching people in search of the answers to simple questions in life. What are those questions? In the case of
Searching for Sugarman
, on the surface, it seems straightforward enough. As we follow two South African music lovers enraptured by music that moved them (and hundreds of thousands of others) in their youth under Apartheid, we are drawn to wonder:
who is
 Sixto Rodriguez? And more importantly:
what ever happened to
Sixto Rodriguez?
As it's repeatedly stated throughout the film, the unlikely and borderline-surreal story and contrast behind Rodriguez's rise to fame in South Africa (seemingly unbeknownst to him) and his day-to-day life in the poverty-stricken obscurity of Detroit's concrete jungles, is fascinating beyond compare. The narrative mystery plays out scene-by-scene in quiet, but gripping detail, unfolding in ways that would make Sir Arthur Conan Doyle jealous. 
Searching for Sugarman
 thus plays out as a careful study of process, offering the viewer the subtle, guilty pleasures a journalist or private detective might feel as she jumps from clue-to-clue on the hunt for a fine discovery. As if the audience is the Watson to Bendjelloul's Sherlock, we feel as if we are actually tagging along for the journey with the filmmaker, sharing in his excitement as he wanders internationally on the prowl to uncover a great fable.
And if the film only followed the pathway to answering those questions, it would be strong enough to captivate audiences.
But what really pushes
Searching for Sugarman
over the top is the way in which it touches on a range of far deeper questions about art, fame, culture and ultimately, our purpose in life. The film so elegantly reminds us that many moons ago (i.e. when my parents were in their 20s), before the days of Youtube, Facebook, Twitter, Tumblr, Pinterest, Instagram, and those confusing 'Share This' buttons, there still existed incredible methods for ideas and art to 'go viral.' In those days, the pathway for a book, a theory, a film, or in Rodriguez's case…a song, to reach audiences outside of traditional distribution outlets, required an inspiring level of creativity, determination and courage on behalf of ordinary people committed to ensuring that great art see the light of day — particularly when government censorship threatens to silence free expression. Thus Sixto's story serves as a reminder that no matter how much planning, market research, audience surveys, analytics and metrics to pre-determine success, sometimes the universe just operates on inexplicable cosmic properties and allows the cream to rise to the top. Bendjelloul's editing helps the reinforce the sensation of the historical mashup, easing audiences' arrival at the same connections created by South Africans decades ago. Juxtaposing archival footage and South African streetscapes with careful curation of Rodriguez's songs leaves the universality of his music feeling eerily uncanny.
The success of Rodriguez's music in South Africa emphasizes the post-modern gift and privilege to create new meaning and relevance through presenting art out of its original context. The power of reinterpretation could not be expressed here with greater resonance. Likewise, we're reminded that we can never know the full impact of our actions, particularly our creative pursuits. Though Rodriguez is a man of few words on camera, clearly he has grown to appreciate the remarkable power of small acts leading to major legacy. Case in point: on the film's website, Rodriguez remarks his own wonder at the fact that "today a fruit vendor in Tunisia can bring down a dictator."
Calling Sixto Rodriguez 'enigmatic' is the understatement of the year. His lyrical poetry as expressed in his music, particularly as compared with his relative silence in on-camera interviews, and current ascetic and pauper's lifestyle, makes for the kind of beautiful contrasts that only real life can dream-up as told in a fine documentary. It is a total testament to Bendjelloul's craft as a filmmaker (especially with such an apparently low budget), to facilitate such an emotional and deep connection between audiences and this unique man, who says almost nothing as a talking head, and everything as a mysterious disembodied voice-on-vinyl. Sixto's life story as portrayed in 
Searching for Sugarman 
offers the important message that those who seek fame are rarely the most talented, and that the press and celebrity-producing machines may always be imperfect vessels for finding and promoting greatness in culture. Sixto is a reminder that there will always be people who take solace in the pure pleasure of making music for the sake of making music. And that while it may take some time (and a little bit of elbow grease) to marinate and find its way through the noise, audiences will always connect with art that is pure of soul.
Sugarman's
gift to me was its nudge to get me thinking more deliberately about the things I want to search for in my own life. Sixto, you deserve all my gratitude for that. And to Bendjelloul: your filmmaking reminded me that I may be ending too many of my own sentences with periods instead of question marks.
On that note…what film to watch next?
— Lance Kramer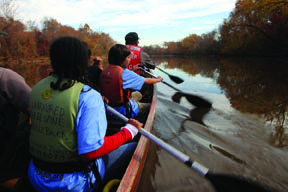 Meridian Hill Pictures is pleased to announce that the Smithsonian Anacostia Community Museum curators have selected MHP's short documentary Anacostia Paddle to be featured in the new exhibition "Reclaiming the Edge: Urban Waterways and Civic Engagement." 
The exhibition is organized in conjunction with the museum's 45th anniversary. "Reclaiming the Edge" draws upon research on the history, public use, and attitudes toward the Anacostia River and its watershed, and on review of urban waterway developments in other cities across the globe. "Reclaiming the Edge" explores various issues regarding human interaction with natural resources in an urban setting. It looks at densely populated watersheds and rivers as barriers to racial and ethnic integration, as well as examines civic attempts to recover, clean up, re-imagine, or engineer urban rivers for community access and use. 
MHP's short documentary Anacostia Paddle follows members of the DC Green Corps on a daylong exploration of the Anacostia River. Anacostia Paddle is one of six short documentaries MHP has produced about the DC Green Corps since 2010. MHP is also in production on a feature-length documentary about the Green Corps, with an anticipated 2013 release. 
"Reclaiming the Edge" will be located in the Main Gallery and runs October 15, 2012 – August 18, 2013. For more information on the Smithsonian Anacostia Museum, visit http://anacostia.si.edu. For more information on the Green Corps documentary film, visit the Meridian Hill Pictures website.
On August 8, 2012, Meridian Hill Pictures co-founders Brandon & Lance Kramer guest-lectured at instructor Joshua Glick's Yale University Summer Session Course, "Film, Video and American History." The following is a reflection from Joshua on the class:
So often film history courses focus solely on how cinema represents seminal events in the distant past. While our Yale Summer Session class "Film, Video, and American History" begins with the inception of cinema in the late 19th century, and then tracks how film reflects, and helps to constitute, historical changes throughout the 20th century, we conclude in 2012. Inviting Meridian Hill to Yale to lead a discussion and screen several of the team's recent projects provided an enriching opportunity to explore documentary as "contemporary history," — a kind of media that archives and offers thoughtful reflection on our current social and political moment. 
In front of 20 seminar participants from China, Korea, Japan, Mexico, and the United States, Lance and Brandon Kramer shared how their model of participatory documentary has resulted in a series of innovative collaborations with individuals and communities in the Washington D.C. area. Each film we watched occasioned a stimulating dialogue. We talked about Life as a Collage as a multi-layered portrait of: the collage artist and educator Tim Gabel as he struggled against cancer; the Adams Morgan-based Sitar Arts Center where Gabel taught; and the students Gabel influenced in ways both personal and professional. After watching selections from the work-in-progress, Green Corps, we discussed how the film both investigates the local effects of national political initiatives, and shines a light on a D.C. community frequently obscured from view within nightly newscasts. Students were also interested to hear about how Meridian Hill gained the trust of the D.C. residents and the challenge of raising the funds necessary to sustain the feature-length project.
We ended class with a look at Meridian Hill's recent partnership with "creative technologists." Viewing their experiments with taking content from Green Corps and transforming it into a web-native video prototype encouraged everyone to consider how documentary can be positioned within a wider field of humanities work, and lead to productive alliances between specialists in the information sciences, computer programmers, historians, educators, and filmmakers. This last tech-savvy case study helps chart a fascinating path forward for socially-engaged media. Meridian Hill's presentation was a nice way to round out the course and definitely left students eager to know more about the contemporary uses of film as a creative educational tool. We look forward to bringing the dynamic D.C. team back to Yale in the future.
— Joshua Glick, Yale University